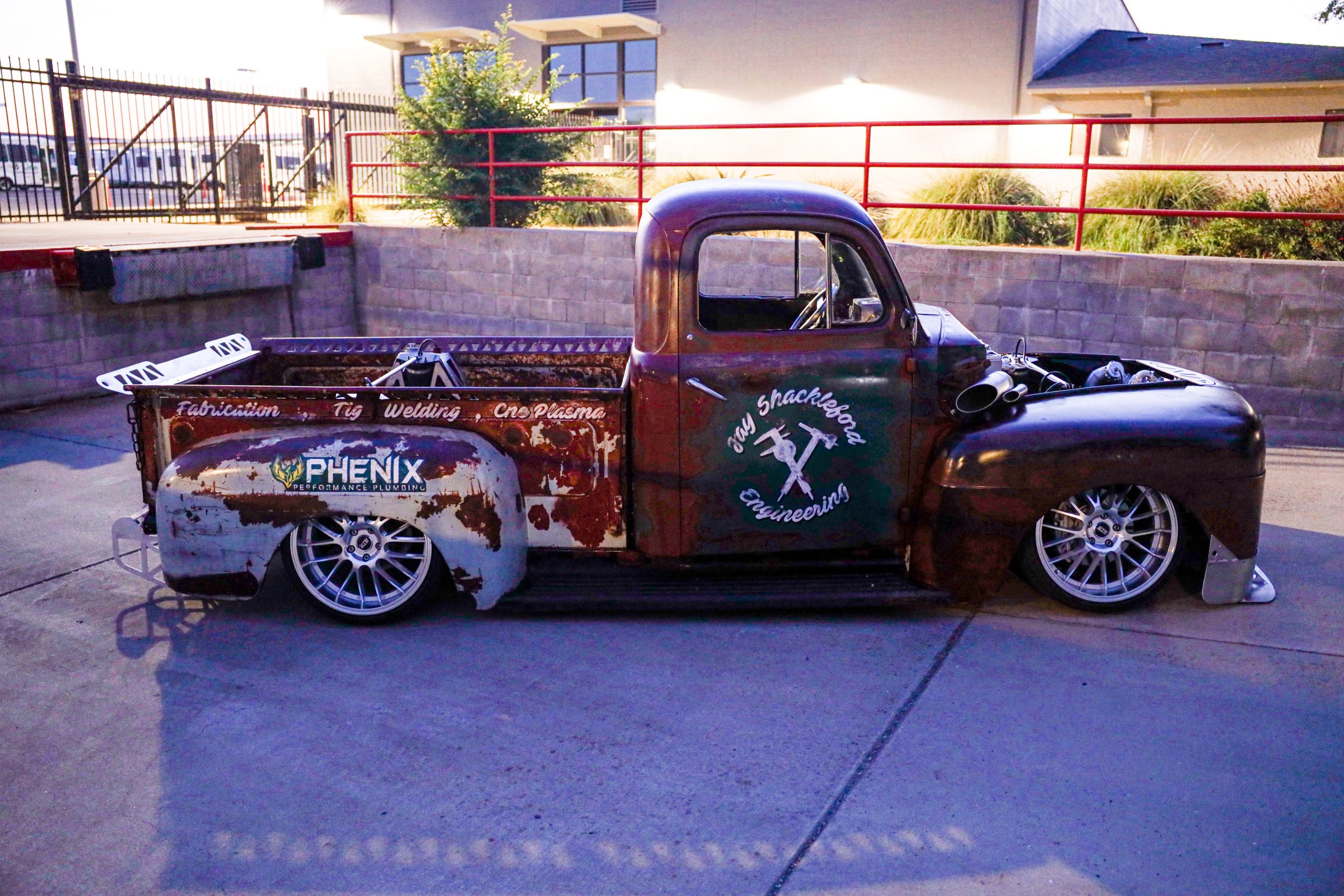 When it comes to SEMA, we can sometimes become desensitized to the level of craftsmanship you find at every turn, especially when it's a literal "Who's who" of custom builders each year.  But how many of these customs can you say take on the persona of the builder.  Those few builds that you can see the care and attention to detail put into every nut, bolt and panel.  Those builds where you can almost see   the blood, sweat and tears being shed deep into the night by a lone fabricator, knowing he's competing against the best in the business.  This 1949 Ford F1 is one of those rare few…
To truly appreciate the craftsmanship and hard work that 27-year-old James Thomas has put into his SEMA Young Guns build, you have to know where it started. "I got the truck in 2017 from Redding California. I literally had to dig it from the earth. It was yard art." said James. "I have always been drawn to these older trucks and the patina of this truck told a story of its 71-year journey, and I wanted to keep that alive." While James initially competed last minute in the 2019 SEMA Young Guns competition, a competition built around showcasing up and coming young fabricators, he fell short of the golden ticket because he wasn't finished with the truck. James, not one to give up said losing out on the 2019 competition helped push me to come back in 2020 with the mindset that losing was not an option.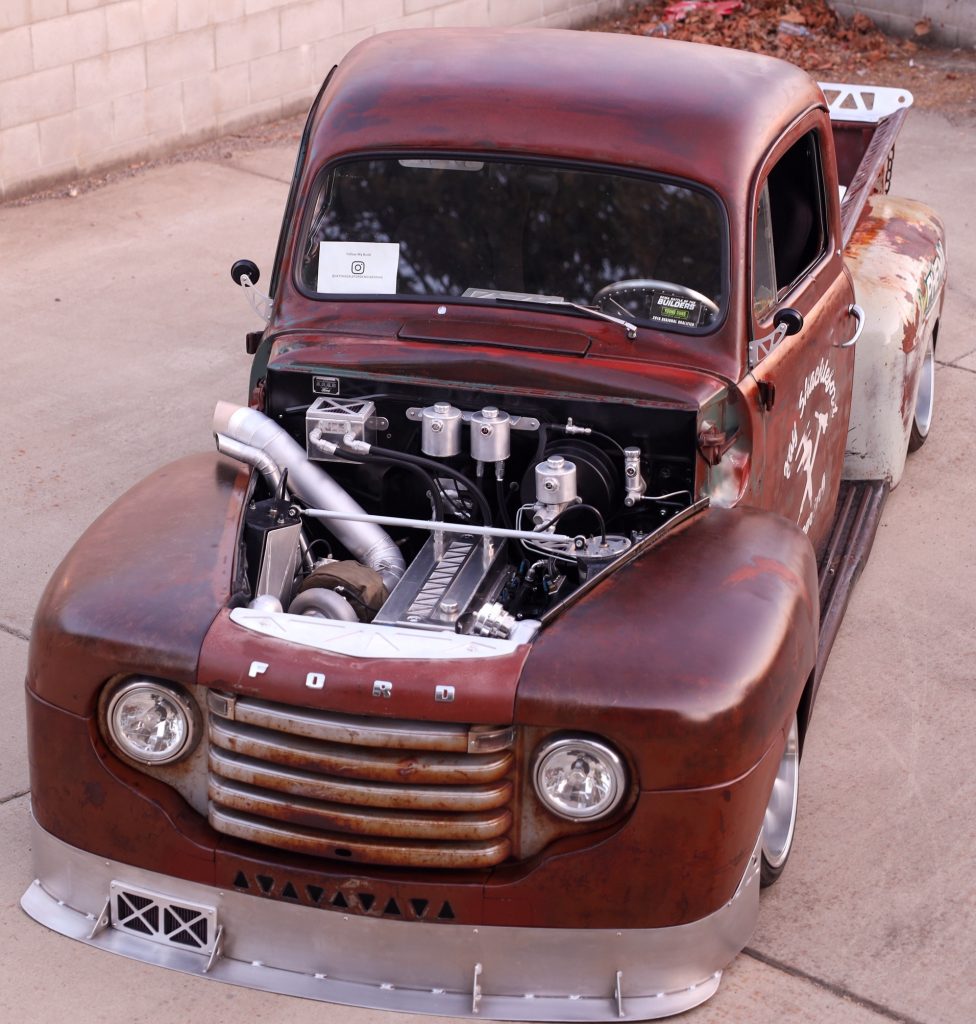 James has been around fast things his whole life, always drawn to motorcycles and old vehicles. All through middle school and high school he built motorcycles. It wasn't until college where his love for old trucks took off. It started with a '74 Datsun 620 pickup that he built with Miata front and rear independent suspension – and of course on air ride – a T5 trans, powered by a Ford 302 that he built from scratch . He did the paint and body work as well, a truck built from the ground up completely by himself.
The Datsun build was completed while James was still attending Chico State for a degree in manufacturing engineering.  Between studying and building the Datsun, it helped pushed James into the technology that complimented his fabrication skills. 3D modeling, CNC machining, MIG and TIG welding were all self-taught. "I never say no to a challenge, and when others say it can't be done, I push even harder to find a solution."
Big Bacon started as a job resume
It can be difficult to start out in the engineering field as many companies want years of experience at other shops. So James decided he would make his own experience, and build the truck to show what he can do, rather than just saying it. He knew he wanted the round body style of an old truck, and it had to be a Ford. He saw the '49 Ford F1 on Craigslist which he later coined "Big Bacon" because of how big and crispy it was, and how it resembled the color of bacon. Then he set out with a goal to do something no one has done before: To make people love to hate it.
He alone built and fabricated everything on the truck with his own two hands, complete with blood, sweat, and its share of tears. All fabrication and customization on the truck was completed by James  the intercooler, radiator, fuel tank, catch can, brake / clutch / power steering / coolant fluid tanks. It has a tablet for the dash, air conditioning, heater etc. All the electrical is controlled by can-bus touch screen electronics. All the wiring is mil spec, using braided loom and Deutsch connectors. What James described as "Tons and tons of aluminum work."  Truck features a rear "diffuser" mainly for looks but the fuel tank was designed to accommodate it. Even the fuel pump hanger assembly was custom designed and fabricated. The front air dam houses the air filter which is funneled thru 4" aluminum tubing into the turbo.
For further aesthetic and functional upgrades, all lights were upgraded to LED power. The taillight is also custom made by James and features an integrated taillight, brake light, turn, and reverse all in one small unit that captures the vintage and period correct look.
James also did custom painted artwork including on the bed floor which features a rustic, aged American flag. Tailgate built from scratch and with the "Ford" script emblem pressed from CNC plasma cut stamp.
"It's been an emotional build because I lost my mother at the end of last year, and she had a thing for old vehicles. I wanted to at least give her one ride in the truck before her life-long battle of health issues took her. I fell short, but she's riding in spirt and watching from above." For 2 months he spent 20+ hours straight every day working on the truck; no days off, no breaks.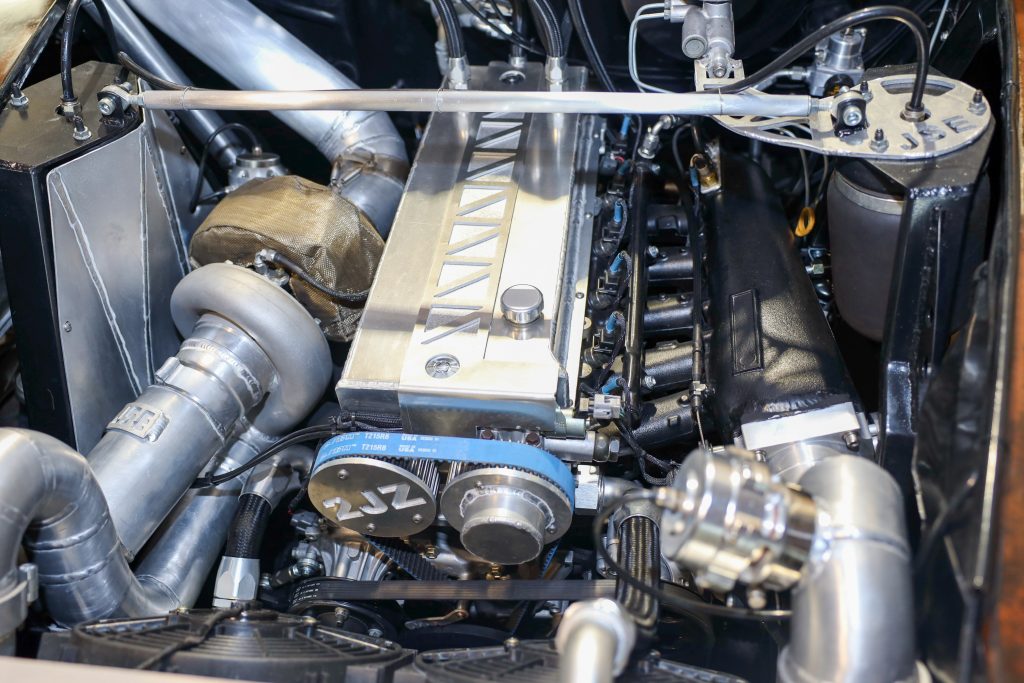 James entered Big Bacon in the SEMA Young Guns Battle of the Builders, where young, up-and-coming builders compete to spotlight and inspire future industry icons. When he got that call that he was the Norcal Region Virtual Qualifier Winner, he was on his way to Tahoe and literally jumped out of the car at the stop sign, ran to the car in front of him (which his buddy was in) and yelled "I made it!!" James remembers telling himself "See losing was not an option… I finally got some experience… I wish my mother was here to be a part of the news…." It was a bittersweet accomplishment, but the months of being locked away working hard had paid off.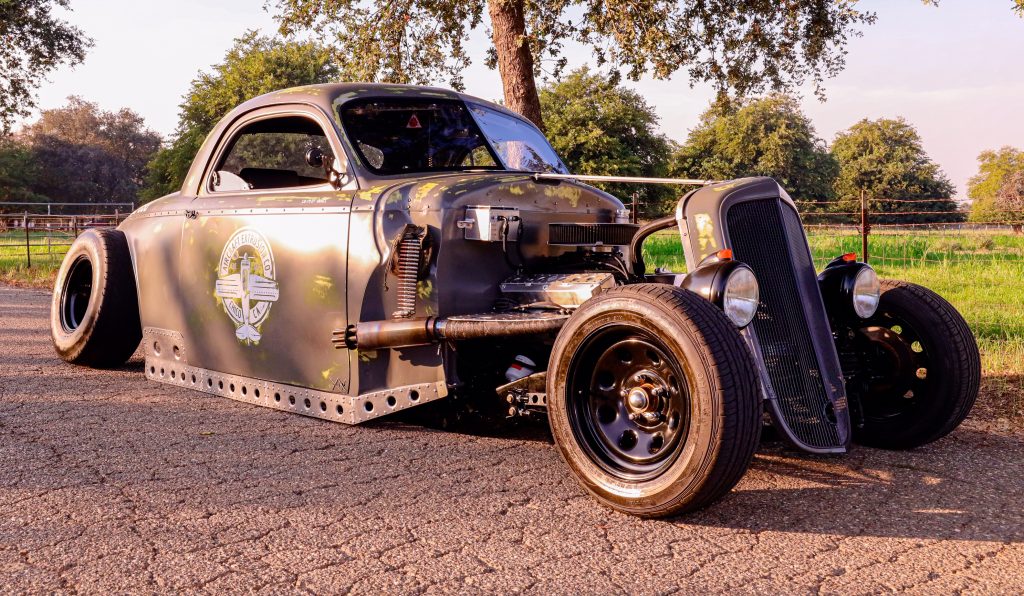 Rat Rods and Airplane Vibes
Not only was Big Bacon accepted into the Young Guns competition, James entered a second vehicle, a '41 Dodge business coupe he named Aviation Rat was also accepted. "Being the first person to have two vehicles accepted in one year for the Young Guns is amazing, made a little bit of history. Nice to show others it can be done."
The car showed up a complete mess from another shop, requiring James cut everything out and redo it. He started with just the skin of the body and the center section of the frame where the body mounted. The client, who owns an aircraft metal supply business, said his only instructions were to make the Dodge have an airplane theme. James went above and beyond, completing the build in 6 months and doing all the work himself. Six stage fauxtina paint, all the custom aluminum work, wiring, metal fab, and suspension design. Everything was designed in 3D space and cut out on his plasma table. And of course like all his builds, it sits on air ride. The motor is a dodge 318, and the rear of the car features a beer keg turned into a missile. It also features an intake fuel pump and fuel level gauge, but most notably the whole car is plumbed to last more than a lifetime with Phenix Industries AN fittings.
By the way, did we mention the original car was a two-seater?  James knew the client has kids and he knew there was enough room to make it seat four, so he took converting the coupe into having dual rows as an extra challenge.  This is just some of the effort James said has been his staple in going above and beyond for his clients.
Instead of being a resume, Big Bacon turned into James and his friend's startup business JSE or Jay Shackleford Engineering. Now one of the biggest obstacles he faces being a fabricator and new business owner is the fact he doesn't have enough time in the day to complete everything he wants to do.  James said his next project might be finding the ability to clone himself just so he can get more done. If he had any advice for other young guns looking to get into the industry, it would be "Don't build something with the phrase 'it's okay, no one will see that.' I hear that way too much and see it in work that I have to correct. If you remind yourself not to think like that, you'll get very far and the business will come to you." James hopes to continue growing his business and being able to add other talented employees in the future, as well as build lasting relationships with brands like Phenix. "The one and only sponsor that took a chance with me is Phenix Industries, they supplied all the AN fitting and components and I couldn't have asked for a better partner." And of course, he has many projects he wants to complete: custom motorcycles, custom water crafts, and of course more trucks.
Phenix is proud we were able to be part of James's success and support young talent in the industry. Be sure to follow James and show him some love on Instagram @jayshacklefordengineering 
Big Bacon
1949 Ford F1
Powered by a built Toyota 2JZ
Backed by a T56 6-speed sequential shifter from S1 (James designed and built the trans adapter)
Sitting on Supra independent front and rear suspension with heavily modified Mercedes air bag struts.
Modified standalone engine harness from Tweak'd Performance
Standalone ECU
Tuned from Bend Calibration in Oregon